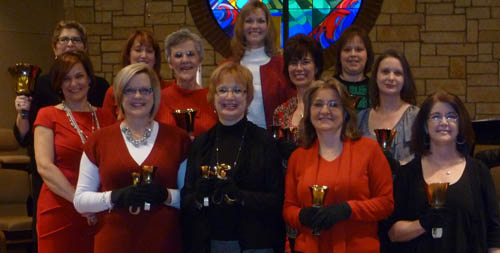 Gracenotes is the premiere five octave handbell choir at Suncreek, under the direction of Michelle Spangler. They play about once a month during the regular service, communion or other special times throughout the year. They have also performed at various festivals in Texas.
They rehearse Wednesday evenings 6:00-7:15 p.m. If you are interested please contact Michelle Spangler. .
---
Intermediate Handbell Ensemble
There has been interest expressed by a few people who would like to be a part of an intermediate handbell ensemble for youth and adults. If you are interested, please contact Ben Turner at If there is enough interest rehearsals will be held Thursday evenings 6:30-7:30 in the Sanctuary this fall.