All Rehearsals Sunday Afternoon Schedule:

4:00 – Sunchimers (1st-5th grade) in room B116
with Becca Cartwright and Amy Guest
4:30 – Cherub Choir (K-2nd grade) in room C108 with Audra Turner
4:30 – Carol Choir (3–5 grade) in room C113 with Cindy Peterson

For more information Contact: Jennifer Hill, Asst. Director of Music
E-mail: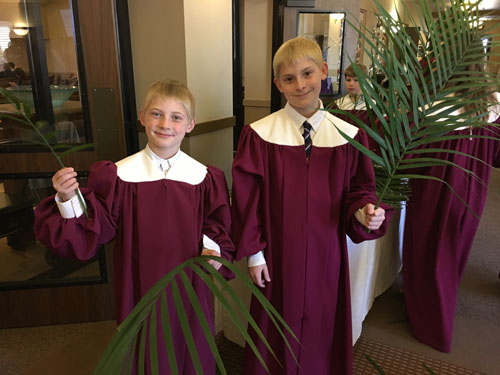 Sunchimers (1st-5th graders) Sundays 4:00-4:30 in B116
Sunchimers is part of the overall music education and worship ministry for children in grades 1-5. Children expand their knowledge of learning note names, rhythms and other musical aspects. Sunchimers rehearsal immediately precedes the Cherub and Carol Choir rehearsals Sunday afternoons and children are encouraged to participate in both choirs. This choir rings for many of the same services as the singing choirs--Children's Sabbath, Children's Christmas Eve, and Palm Sunday. This ensemble is directed by Becca Cartwright and Amy Guest.
Cherub Choir (K-2nd grade) Sunday, 4:30 pm in Room C108
At this age, children are ready to begin a regular pattern of participating as a choir in worship. Musical skills are expanded upon, with beginning emphasis on transferring rudimentary notation to the written page. Time is also given to movement exploration and the use of hand signals as a means of learning to sight sing. Audra Turner directs this choir.
Carol Choir (3rd-5th grade) Sunday, 4:30 pm in C113
More intensive vocal challenges and worship responsibilities are introduced at this age level. Increased emphasis is placed on learning musical terminology and literacy development with the goal being usable sight singing skills. The voice is ready for more challenging repertoire and the ear is ready for some part singing. Cindy Peterson directs this choir.

Cantate Youth Chancel Choir Children's Music Worship Team Chancel Choir Photos