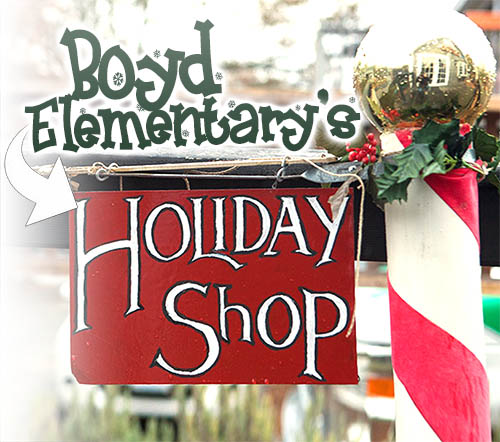 Boyd Elementary Holiday Shop 2021
Alton Boyd Elementary is hosting another Holiday shop.
Members of the community who would like to help our Boyd students during this holiday season can do so by donating gifts to our Holiday Store. Boyd students can earn shopping tickets; students shop through the store for their parents or guardians, each student is able to attend the store 3 times. We are asking for donations of new or gently used gifts suitable for our children to give their parents or another adult family member. Donations are accepted from 9:00 am until 2:00 pm (Monday through Friday) starting on Thursday, October 21st. Donations can be drop-off with Mrs. Puterbaugh or at the front office.
Possible suggestions:
Women - lotions, purses, perfume, makeup, scarfs, gloves, books, and jewelry.
Men- books, watches, ties, gloves, scarfs, office trinkets, keychains, tools, etc.
Household - pictures, knick-knacks, towels, and small kitchen items (no sharp objects please).
We do not accept clothing or toys in our Holiday Store.
Additional items needed:
Tissue paper
Tape - need at least 50 yards
Small boxes - for jewelry and small knick-knacks at least 50
Generic gift bags (lots) - We love to wrap but sometimes we need to put the items in gift bags Gift tags
Gift bows
Gift wrapping paper
Anyone with questions can call Marisol Puterbaugh at 972-727-0560 or email at marisol.puterbaugh@allenisd.org